Under Horseracing Integrity and Safety Authority rules, stewards began issuing rulings Aug. 1 against jockeys for use of riding crops not compliant with HISA specifications. Thirteen violations took place at Arizona Downs Monday, and another violation occurred that same day at Prairie Meadows.
HISA regulations specify riding crops must be soft-padded with a smooth, shock-absorbing foam cylinder at their end, a portion of the crop known as the popper. The crops are not to exceed 30 inches in length or eight ounces in weight. 
HISA is responsible for drafting and enforcing uniform safety and integrity rules in U.S. Thoroughbred racing. The authority is comprised of two programs: the Racetrack Safety Program, which began July 1, and the Anti-Doping and Medication Control Program, scheduled to take effect in January. 
Usage of crops with cylinder poppers has increased in recent years, largely after retired Hall of Fame jockey Ramon Dominguez and current Louisiana rider Carlos Marquez introduced a riding crop with a cylinder known as the 36O GT.
Watch: Dominguez On 360 GT Riding Crop With Cylinder Popper
Traditional crops have edges on their poppers, though all are designed to be more forgiving to horses than those from prior eras. Jockeys often have preferences for crops based on weight, maneuverability, and other factors. 
HISA CEO Lisa Lazarus indicated that the cited riders have until Sept. 1 to show the purchase of a compliant crop. Those that do so will have their violations dismissed. Otherwise, a fine could be issued, she said. A racetrack's board of stewards will have the discretion to determine penalties for use of a non-compliant crop.
"This process was conceived to motivate compliance and not to penalize jockeys," she said.
Exercise riders, unlike jockeys, are not currently being issued violations due to supply considerations, though HISA rules call for exercise riders to have such crops. According to Lazarus, Dominguez, and Jockeys' Guild president and CEO Terry Meyocks, there are only a few individuals or manufacturers that currently make HISA-compliant crops.
Under the restrictions in place under HISA rules, the 36O GT now has an overwhelming market share. Dominguez called it a "long process" to see the production of a new type of riding crop through to completion.
"It took us maybe a couple of years to perfect this. It was really trial and error," he said.
Ramon Dominguez holds a 360 GT riding crop Aug. 4 at Saratoga Race Course
Lazarus and Dominguez said there is adequate supply for jockeys to obtain a HISA-compliant crop, with Dominguez saying the typical turnaround for a custom-made crop, produced to a jockey's requests for length, flexibility, and other considerations, is 10 days.
He speculated the non-compliance that occurred Monday could have been a result of jockeys awaiting results of whether HISA rules would be enforced following legal action against HISA from various states and groups, including the Jockeys' Guild. On Aug. 3, the Fifth Circuit Court of Appeals granted an administrative stay of enforcement of a preliminary injunction entered against HISA. Entry of the stay means, for now, pending further legal decisions, the injunction has no force or effect in any racing jurisdiction.
"I was in conversation with someone from Arizona, actually last week—part of the issue is that because there has been pushback with certain lawsuits and so on," Dominguez said. "I feel like the vast majority of jockeys have been waiting for this to be 'official.'"
Meyocks said he was uncertain why such a high number of violations occurred in Arizona. Dominguez said supply is not limited out west, or in other regions of the country. His orders are primarily being fulfilled online, with fewer crops now available in tack shops. 
At a cost of $95, the 360 GT is more expensive than most standard crops, though not some high-end ones, Dominguez said. 
"It's something that some of the tracks are coming up with a formula to subsidize these for the jockeys, especially for the tracks where the purses are not really that high," he said.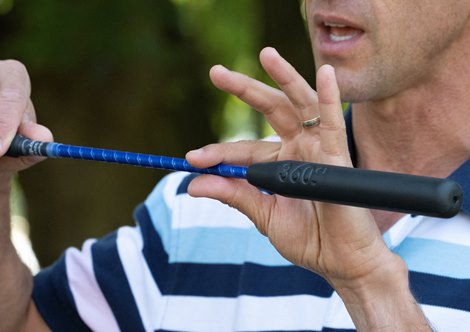 Ramon Dominguez exhibits the padded cylinder of the 360 GT riding crop
Lazarus declined to speculate when exercise riders would be required to possess compliant crops.
"I don't want to set a false deadline, especially as I know for exercise riders it could be more burdensome," she said.
In the meantime, some racing organizations, such as the New York Racing Association, are working to expedite the process.
"Right now, NYRA is placing a 250-crop order to cover the exercise riders here, and that's something—we're almost finished producing them," Dominguez said. "So it's something that will take some time for the exercise riders, but not for the jockeys. "
The retired rider said that more than 1,000 of the 36O GT crops have been distributed since the company began, with more in production.
"It was gratifying for me to consider something for the welfare of the animal and really for the sport itself," he said.