Massachusetts lawmakers passed a compromise bill Aug. 1 between the House and Senate to legalize sports betting in the Commonwealth, and among its provisions are that existing in-state racetracks, casinos, and slots parlors are granted the rights to apply for one of 15 licenses and partner with two mobile sports betting platforms.
Moreover, the legislation stipulates that those specific existing license holders have the right to add a sports betting license directly by request to the Massachusetts Gaming Commission.
Massachusetts Governor Charlie Baker, long a proponent of expanding gambling in the Bay State to include sports betting, pledged he will sign the bill when it lands on his desk.
Sterling Suffolk Racecourse LLC, the former owners of the now-defunct Suffolk Downs in East Boston, meets the criteria for a license and intends to apply, said CEO Chip Tuttle right after the bill passed.
Racing at Suffolk Downs
SSR sold the racetrack property to a real estate developer in 2017 but retained the Thoroughbred racing and simulcasting licenses. SSR, which ended live racing in 2019, has continued to operate simulcasting on site. SSR also holds the simulcasting license for the shuttered Wonderland Greyhound Park, located in the adjacent City of Revere, since it purchased the property after live dog racing was outlawed in the state in 2010. That property remains idle.
Governor Baker first introduced the idea of sports betting in 2019, and over time both the House and Senate passed their own yet vastly differing versions of a sports betting bill. A conference committee comprised of members of both chambers worked for more than a year on the issue before arriving at a final version of the bill and it was passed at 5 a.m. once the midnight deadline to end the formal legislative session was extended.
"It's been an interesting three and a half years. We're very excited that in the final version of the law we have both retail and mobile sports betting rights," Tuttle said.
Tuttle said that although SSR will exercise its right to apply for one of the 15 licenses and partner with mobile sports betting platforms, the company's right to the Wonderland license at the old dog track exists by legislation governing racetracks so there is no interest to pursue that avenue as well.
Tuttle said that at this time SSR does not have an agreement in place with any of the several companies which control sports betting operations in the United States.
"We've spoken to several and expect to continue those conversations over the coming weeks," he said.
Currently, there are 30 states and the District of Columbia where sports betting is legal, according to the American Gaming Association. Five more, including nearby Maine, have legislated it but it is not yet operational. Massachusetts is now the sixth state in that category.
New Hampshire, New York, Connecticut, and Rhode Island, which all border Massachusetts, are among the 30 states which offer sports betting.
Surrounded by all the competition in the border states, SSR plans to build the proverbial better mousetrap. SSR, which consistently has maintained it has no plans to develop a new track for live Thoroughbred racing, aims to build a beautiful new, state-of-the-art combination OTB/Sport Betting complex with all the bells and whistles.
"Our intention is to invest in a state-of-the-art facility that would be both a simulcast center and a sports book. We need to take this one step at a time, though we're working concurrently and have been for a while on real estate options as well as our discussions with potential partners," Tuttle said.
Boston real estate is at a premium and the Suffolk Downs property is being made over into a mixed, multi-use, retail, residential, office park development. While the site of a new OTB/Sports Book facility is undetermined by SSR at this juncture, the Wonderland property in Revere is in the conversation.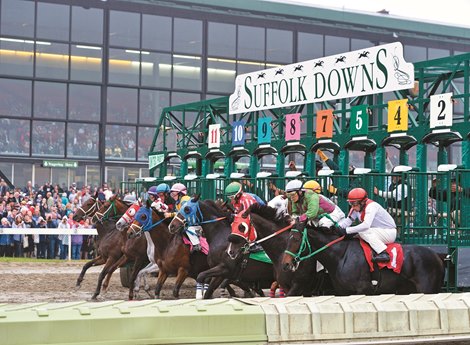 Racing at Suffolk Downs
"We haven't reached any formal conclusions on where we're going to be. The City of Revere has indicated a real willingness to be a host community for a sports betting facility so that's where we have focused most of our intention," Tuttle said.
The addition of sports betting into the Massachusetts gambling market figures to influence the state's Thoroughbred and Standardbred industries. 
Penn National Gaming Inc. owns Plainridge Park Casino, which operates the only live harness  racing track and is the lone slots facility in the state.  
In a statement to the BloodHorse, Northscott Grounsell, vice president and general manager for Plainridge Park Casino, said, "We are very pleased that the Commonwealth has joined the ranks as one of 36 states to have legalized sports betting. We look forward to working with the Massachusetts Gaming Commission to open a retail sportsbook at Plainridge Park Casino and to launch our mobile app as soon as possible."
In addition, there are two full destination resort casinos, Encore Boston Harbor and MGM Springfield in the western part of the state. Encore is located about two miles from the old Suffolk Downs stable gate and is close to the Wonderland site. It is unknown at this time whether either or both casinos will enter the sports book market. 
"Our status is as the defacto OTB," Tuttle said. "Other than whatever happens at Encore, SSR will be the retail licensee for Suffolk County. Obviously, that's a very attractive proposition for any potential sports book partner."
In neighboring New Hampshire, which implemented sports betting at 10 fixed locations plus mobile platforms in December 2019, revenue for fiscal year 2022 totaled $861,106,439, according to the New Hampshire Lottery Commission. Total revenue since 2019 stands at $1,448,949,479.
"This will allow us to keep up with the Joneses over the New Hampshire border," Tuttle said.
Meanwhile, the New England chapter of the Horsemen's Benevolent & Protective Association is holding out hope that sports betting will be the key to the reintroduction of live Thoroughbred racing in Massachusetts and a shot in the arm for the breeding industry. The bill includes a provision that any new racetrack operating under the state's current racing and simulcasting legislation will be given the grant for a sports betting license.
Anthony Spadea, Jr., the NEHBPA president, said, "It's great news that this bill passed. We worked very hard for this. The effort put forward by our executive director Paul Umbrello to help get this legislation passed was commendable. We are supportive of any group and every group that is trying to bring back Thoroughbred racing."