It's not unusual for a race to be decided in the stewards' booth through a disqualification.
In the case of the $1 million Caesars Belmont Derby Invitational Stakes (G1T) at Belmont Park, a 26-1 front-running victory by Classic Causeway  received a huge boost from a violation in regards to issues relating to veterinary records that led to the scratch of Emmanuel  from the race for 3-year-olds.
When the field of 13 was drawn for the July 9 1 1/4-mile opening leg of the Caesars Turf Triple, on paper there figured to be a lively tempo on the front end between the speedy Classic Causeway and Emmanuel, the front-running winner of the Pennine Ridge Stakes (G2T).
But when state steward Braulio Baeza Jr. ordered the scratch of Emmanuel Saturday, it left Kentucky West Racing and the Clarke M. Cooper Family Living Trust's homebred Classic Causeway in an opportune position.
"I was really happy to see that," winning trainer Ken McPeek said about the scratch.
Classic Causeway soars to victory
The connections were even happier after Classic Causeway controlled the pace and held off a cavalry charge of closers at the end to take the grade 1 stakes by three-quarters of a length in his turf debut. The flashy chestnut posted his first win since his March 12 Lambholm South Tampa Bay Derby (G2) score, after which he continued onward toward the Kentucky Derby Presented by Woodford Reserve (G1).
"They would have run each other to death," Patrick O'Keefe, the head of Kentucky West Racing, said about facing Emmanuel. "It worked out pretty well."
The victory by a little less than a length over 2-1 favorite Nations Pride  served as vindication on numerous levels for a son of Giant's Causeway who had been hounded by conjecture and criticism for the past few months. After he finished 11th in the Curlin Florida Derby Presented by Hill 'n' Dale Farm at Xalapa (G1), trainer Brian Lynch said Classic Causeway would not compete in the Run for the Roses.
In turn, the owners pushed for a start in the Run for the Roses and the result was another 11th-place finish. The 3-year-old was transferred to McPeek after the Derby.
His first start for McPeek was a third in the June 25 Ohio Derby (G3), after which a chain of events resulted in Classic Causeway turning up in the Belmont Derby as the considerably longer-priced of two starters for McPeek behind Tiz the Bomb .
"After the Ohio Derby I had dinner with the owners and I told them at some point they have to try turf. He has a foot like a pancake," McPeek said. "When he ran in the Ohio Derby he showed a lot of fight in the final quarter of a mile but he got tired in the race. That's why I came right back. I felt he needed to run. He was huffing and puffing and maybe he needed the race."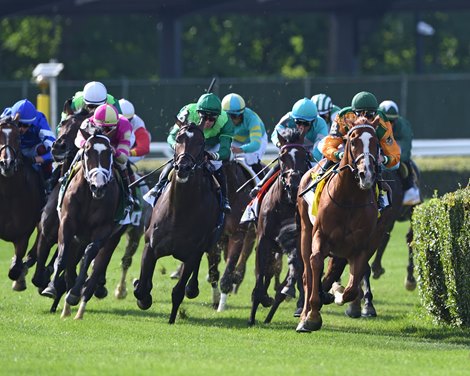 Classic Causeway hits the head of the stretch full of run
McPeek also thought the slower early fractions in a long turf race would also suit Classic Causeway, convincing him to run on just two weeks of rest.
"He needed a little different pace in a race so that he could relax a bit. He has a big turf foot on him and his sire was a top grass horse in Europe," McPeek said. "Mentally he's a tricky horse because he wants to do too much too soon in his races. I felt in the mile and a quarter (on turf) no one would test him like they do in those dirt races in the spring. I thought he could relax and breathe a bit in a modest first half."
When that proved to be a highly accurate prophecy, with some help from a scratch, O'Keefe was able to savor his initial grade 1 win in more than 25 years as an owner.
"We have a genius for a trainer. This was all Kenny's idea," O'Keefe said. "He looked me in the eye before this race and said he wants to take this horse around the world."
In giving McPeek yet another grade 1 win at long odds, Classic Causeway and jockey Julien Leparoux broke from post four in the field of 12 and led by a head over 17-1 European traveler Royal Patronage  in :23.55 over firm turf with 32-1 shot Grand Sonata  five lengths back in third.
Thereafter the pace began to slow as Royal Patronage fell back, leaving Classic Causeway covering a half-mile in :48.02. Classic Causeway was cruising along with a 1 1/2-length lead, and McPeek loved what he saw.
"The other one (Royal Patronage) backed off," said McPeek, whose other starter, Tiz the Bomb, was ninth at 5-1 odds, "and the rest is history. (New York Racing Association analyst) Andy Serling was kinda thinking he was a sprinter, but I think he was wrong."
Classic Causeway never looked back in the final six furlongs, holding a two-length lead at the eighth pole and outlasting a line of five horses behind him that tried in vain to collar him.
Final time for the mile and a quarter was 1:59.99 as Classic Causeway paid $55.50 to win, a far cry from his $3.60 payoff for his last win, four starts ago in the Tampa Bay Derby.
"The plan was to go to the lead. The only time I was a little worried was in the first turn when Joel (Rosario on Royal Patronage) was kind of head-to-head with me," Leparoux said. "When he took back, my horse got to cruising and was happy to be on the lead. I was getting him to relax nicely and switch off. It was a good run for him. He was actually feeling pretty fresh today."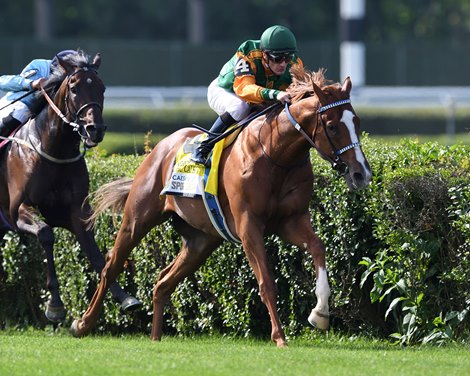 Classic Causeway powers home
Godolphin's Nations Pride , a homebred son of Teofilo  trained by Charlie Appleby and ridden by Frankie Dettori, rallied about eight-wide in the stretch to grab second by a head over fellow European Stone Age . Owned by Peter Brant, Mrs. John Magnier, Michael Tabor, Derrick Smith, and Westerberg, the group 3-winning son of Galileo was 11th in the early stages. Both horses made their United States debuts.
Though McPeek has thoughts of racing Classic Causeway overseas at some point, the Aug. 6 Caesars Saratoga Derby Invitational Stakes (G1T), the second leg of the Caesars Turf Triple, is the next target for Classic Causeway.
"The Saratoga Derby is a no-brainer," said McPeek.
As for the scratch of Emmanuel, following the race Baeza would not elaborate on the reasons for it, saying, "It's under investigation. There's no ruling. If the investigation is not complete, how can we discuss it?"
Todd Pletcher, who trains Emmanuel for WinStar Farm and Siena Farm, said "At some point I will comment, but for now I won't. I think a mistake was made, but not by our team. I think it's a classic case of rules being in place and not being published properly."
Baeza also said that the late scratch of the Todd Fincher-trained Smash Ticket  in the Victory Ride Stakes (G3) was due to a lack of a viable workman's compensation policy in New York.
In addition, it was reported during the conference with stewards after the races that My First Grammy, who was vanned off after Saturday's second race, was later euthanized due to a fractured leg. The Curlin ridgling raced for owners Three Player's Stable and Adam Portnoff was trained by Oscar Barrera III.
For Classic Causeway, the win was his fourth in nine starts and pushed his earnings to $1,106,100. The eighth of 11 foals from the Thunder Gulch mare Private World , he is her lone stakes winner. He is from the final crop of the late Giant's Causeway, which included just three colts.
Private World's most recent foals are a yearling colt and a filly born earlier this year, both by Justify  .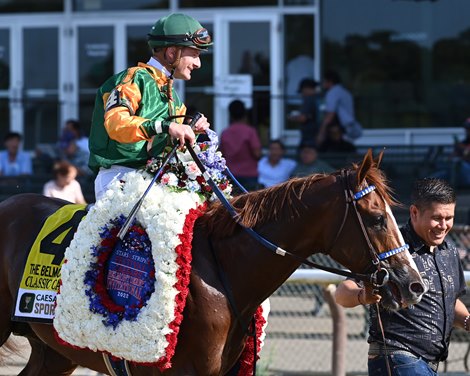 Julien Leparoux enjoys the victory aboard Classic Causeway
Video:

Caesars Belmont Derby Invitational S. (G1T)