Cyprus is set to be a hot bed of poker activity later this month with the inaugural Luxon Pay Mediterranean Poker Party kicking off on August 19.
A host of amazing tournaments are planned and the festival has been boosted by the inclusion of Triton Poker Series Cyprus and the PokerNews Cup, which run in conjunction with the Luxon Pay Mediterranean Poker Party.
It has also been announced that the Coin Rivet Invitational, an event within the Triton Poker Series Cyprus, will be held at the Merit Royal Diamond, North Cyprus from September 10-12.
Songul Bekem, President of Merit Poker said: "We're delighted to be hosting this unique event as we open our new poker room and new Merit Diamond Hotel for the Luxon Pay Mediterranean Poker Party. We're happy to be welcoming back the Triton Poker Series after hosting their last schedule back in April."
Best Free to Play Slots
Coin Rivet Invitational
The Coin Rivet Invitational is a $200,000 buy-in single reentry tournament which mirrors the record-breaking 2019 Triton Million London, which was won by Aaron Zhang for $16.7 million.
The tournament sees professional and recreational players pair up, with both players stumping up the $200K entry fee. The first day of action sees the two player types separated from each other, with the field merging on Day 2. Which players falls under the professional or recreational category is determined by a special committee made up of GGPoker Ambassador Jason Koon, Paul Phua and Rob Yong.
The event is capped at 64 entries and will be made up of 32 recreational and 32 professional players.
Read More: Aaron Zang Wins Triton Million
Current Pairings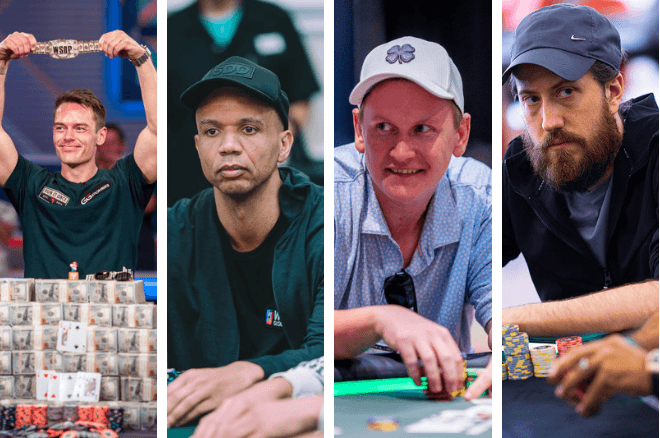 A plethora of big names have already signed up to innovative event, with the likes 2022 WSOP Main Event winner Espen Jorstad, Phil Ivey, Ben Lamb and Steve O'Dwyer already paired up.
Joining the quartet under the recreational banner are the aforementioned Yong (Team Jorstad) and Phua (Team Ivey). Poker Hall of Famer Bobby Baldwin teams up with Lamb while Paul Newey has paired up with O'Dwyer.
| Pro Player | Recreational Player | Collective Tournament Earnings |
| --- | --- | --- |
| Espen Jorstad | Rob Yong | $11,030,355 |
| Phil Ivey | Paul Phua | $62,578,085 |
| Ben Lamb | Bobby Baldwin | $17,264,581 |
| Steve O'Dwyer | Paul Newey | $37,233,653 |
"The pairings of the recreational players with the professionals is generating interest in the community and the early confirmations for the event look encouraging – people are interested in who pairs up and which pairing might be considered the favourites to win," said Neil Barrett, Business Development Director of Luxon Pay.
Triton Poker fans will also be able to follow all the action from the Coin Rivet Inivitational and the Triton Poker Series Cyprus after Andy Wong, CEO of Triton Poker Series confirmed that the events will be broadcasted.
"All the action will be live streamed in true Triton Series style by our great team,"
"Every player that plays a Triton Poker Series event is a VIP and we are looking forward to this new event in the schedule and returning to Merit Resorts for the opening of their brand new poker room and hotel. All the action will be live streamed in true Triton Series style by our great team," he said.
Check out the triton poker series cyprus schedule
Calum has been a part of the PokerNews team since September 2021 after working in the UK energy sector. He played his first hand of poker in 2017 and immediately fell in love with the game. Calum's proudest poker achievement is winning the only tournament he has ever played in Las Vegas, the prestigious $60 Flamingo evening event.